This past Friday night, the Hotel Café, one of LA's more prestigious venues, featured a staggeringly good bill, headlined by The Records. By all accounts, it was a fantastic night of rock 'n' roll with John Wicks & Co. capping the evening off with a blistering set of Records hits as well as a couple of recent additions to their song catalog.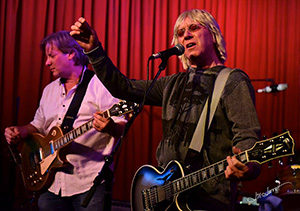 While John Wicks was front and center and Tommy Montes held down the drumming duties, the band featured two new Records. Michael Bradley did the honors on bass and vocals while Michael Stern performed admirably on guitar. Stern proved to be an incredibly quick study as this show was short notice and this was his first appearance with the band. To say that he and Bradley performed well Friday night would be an understatement.
Special thanks to Keith Chagnon, John Calacci, Jeffrey Gaines, Chris Price, Little Silver Hearts and The Hotel Cafe. Check our show calendar often for future dates.
*Photos by Jill Jarrett